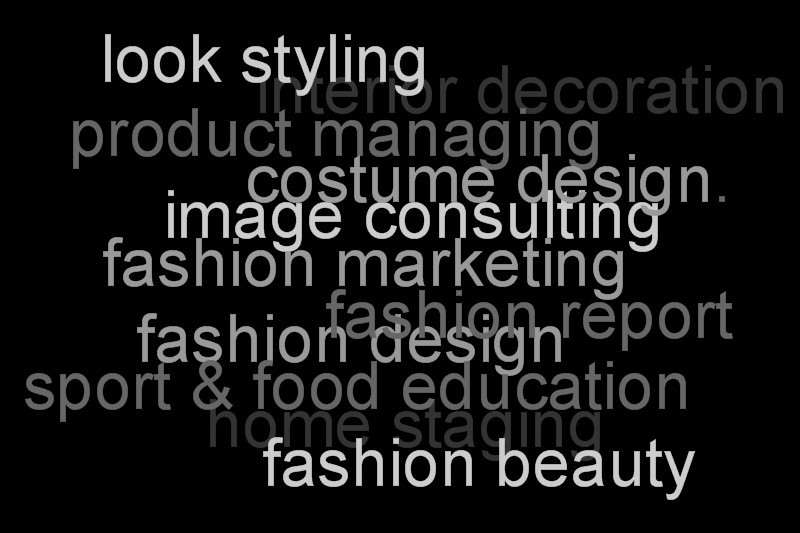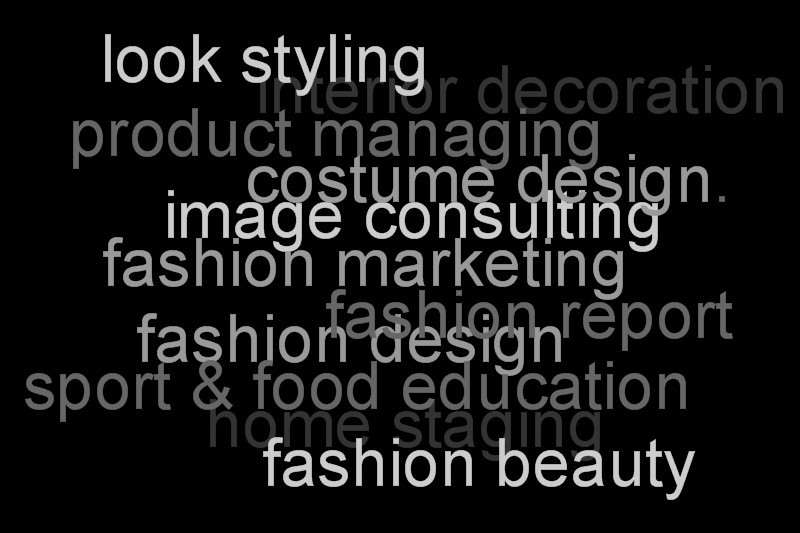 restyling newlook site responsive and blog connections with online possibility to choose and buy services and product
in the meantime follow me on social....
temporary studio number +39 0664762994 - mob. + 39 3333478333
the place to see & enter in contact with... finding & realizing or just looking around my experience and maybe what do you need!
now we are working on...
report trend analisys consulting and take clients on next fairs, designing little capsule collection&new fashion lifestyle tour, posture and coreography for summer events...
francesca de nardi riceve in studio:
dal martedì al giovedì dalle 10 alle 18 le aziende, dalle 18 alle 22 anche i clienti privati
per aziende, brand, consulenze inviare mail di richiesta specifica e telefonare
per discussione corsi, lezioni, workshop & invio proposte

commerciali/contratti

telefonare dalle 15 alle 19


fee enter & consulting 150€ l'ora
sede romana:

via pietro marchisio 16f, 00173, Roma - area studi cinematografici / cinecittà est




sede dislocata nel Lazio

:

via luigi piccinato s.n.c. "fratoscano house", 4016 Sabaudia, LT, Italia




Skype ID:

fdnfashion




general info:

info@fdnfashion.com

- owner/

titolare:

fdn@fdnfashion.com

- eventi/sfilate/fiere:

event@fdnfashion.com

- press Style&product/stampa tecnica:

press@fdnfashion.com

-

varie/other:

fdnfashion@gmail.com

to reach the studio fdnfashion::
-by train termini station or other station, take metro A and then get out in Anagnina last stop.you can walk or take the bus n°20 for just 1 stop via Ciamarra and then 200 m. under the buildings and via Pietro Marchisio 16
-by Ciampino airport, close to my place, take the bus transfer just 1€ to Anagnina metro stop, then or take the bus 20 for 1 stop or by feet
-by Fiumicino airport take the transfert to or Termini station and then metro A or get out @ Tuscolana station then, across the street just 100m. take the metro A @ Furio Camillo to Anagnina then take the bus 20 for 1 stop
-by car exit on GRA @ via Tuscolana then stay down on the left and after a traffic light turn on the right go around the big parking always turning on the right until another big round then go straight in the other side and suddenly turn on the right on via Pietro Marchisio @ the end o the street there is number 16.
-by feet go out from metro A stop Cinecittà, Anagnina or Subaugusta is possible reach walking taking, the n. 559 from Subaugusta metro A stop,, from Anagnina then take the bus 20 for 1 stop

from cinecittà studio metro A stop by feet or by bus along the street via di torre spaccata for 4 stop and then 500 metres by feet.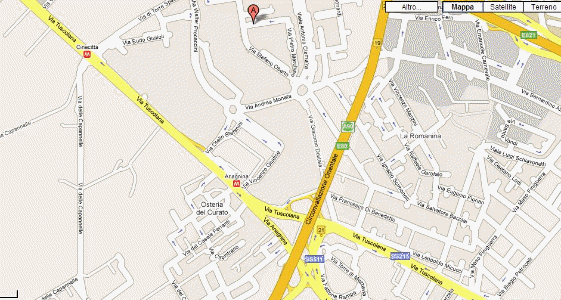 CREDITS
help tecnico & basi web
:
onorato lauretti
ph allestimenti visual,grafica & webdesign:
francesca de nardi
ph. sfilate e statiche:
paolo fichera, fabrizio martinez, giuliano mazzoni, anna paola de petris, francesca de nardi, marianna de paola
ph. personali:
mauro calevi, francesca de nardi
ph.& immagini di ricerca report fieristici, eventi e sfilate:
francesca de nardi
per ricevere la newsletter dello studio, dettagli per i vostri preventivi, informazioni ed e-inviti agli eventi di prossima programmazione dello studio (sfilate, fiere, show-room) lasciate il vostro contatto cliccando su...
info@fdnfashion.com
N.B. le mail inviate oltre i 500 kb se non autorizzate saranno cestinate
fdnfashion concept studio by...francesca de nardi: design & consulting made in Italy
Fashion/Costume/interior Design&illustration - Decoration Painting - Production Managing - Fashion Press Marketing - Image Consulting - Public Relation Network
main studio: via pietro marchisio, 16/f - 00173 Rome, II studio: via luigi piccinato s.n.c. "fratoscano"house 04016 Sabaudia, LT, ITALY
ph. + 39 067212883 / mob. + 39 3333478333 - e-mail: info@fdnfashion.com / fdnfashion@gmail.com - COD. FISC: DNRFNC68A64H501K Skype: fdnfashion
Created and maintain by francesca de nardi ©2000/'15